Partner
Neysa J. Borkert is a partner with Garganese, Weiss, D'Agresta & Salzman, P.A., who specializes in governmental law and is certified by the Florida Bar as a specialist in city, county, and local government law. Before relocating to Orlando, Ms. Borkert served as an Assistant County Attorney for Lee County and worked in a private law firm practicing land use and environmental law prior to her time at Lee County. Ms. Borkert is admitted to practice law in the State of Florida and in the Middle District of Florida.
Ms. Borkert a proud two-time Florida Gator, receiving her Bachelor of Science degree, with honors, and her Juris Doctorate degree, cum laude, from the University of Florida. She is the former chair of the Lee County Land Use and Local Government Law Section. She is a member of the Florida Bar, the Orange County Bar Association, the City, County and Local Government Law Section, the Environmental Law and Land Use Section and former member of the Lee County School District Advisory Council.
When she is not practicing law, Ms. Borkert coaches her son's baseball team and is an active volunteer in local public schools and charitable organizations.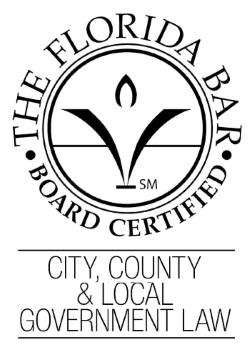 City, County, and Local Government Law
Land Use and Zoning Law
Certified by The Florida Bar in City, County and Local Government Law. Certified lawyers in city, county and local government law deal with legal issues of county, municipal or other local governments such as special districts, agencies and authorities. City, county and local government law also includes litigation in the federal and state courts and before administrative agencies, and the preparation of legal instruments for city, county and local governments.