Shareholder
Jeffrey S. Weiss is a shareholder with Garganese, Weiss, D'Agresta & Salzman, P.A. and is board certified by The Florida Bar as a specialist in Civil Trial Law. He is the recipient of the highest rating (AV) given by Martindale-Hubbell for legal ability and ethics. Mr. Weiss has been recognized as a Florida Super Lawyer by Law and Politics, Florida Legal Elite by Florida Trend and Orlando's Top Lawyer as published by Orlando Home and Leisure. He was inducted into the Litigation Counsel of America in 2009.
Mr. Weiss, has over 35 years, represented both public and private entities in a variety of litigation matters including employment and civil rights disputes, personal injury claims, and general commercial matters. He has tried, through verdict, a variety of cases in both Federal and State court. He also provides risk management and general legal counsel on an as needed basis to both the public and private sector. In addition to having served for many years as an adjunct instructor at a local college, Mr. Weiss lectures throughout the state and nationally on topics such as Federal Courts Practice, Civil Rights, Employment Practices and Landlord Tenant Law.
Mr. Weiss volunteers his time and legal experience by serving as a legal advisor to the Jewish Community Center of Greater Orlando. Mr. Weiss has also served as a member of the University of Florida Law School Alumni Council. In November, 2014, Mr. Weiss was appointed by Governor Rick Scott to the Judicial Nominating Commission, Eighteenth Judicial Circuit.
Mr. Weiss is admitted to practice in all Florida state and federal courts, the U.S. Court of Appeals for the Eleventh Circuit, the Supreme Court of the United States, and the U.S. Court of Claims. He earned both his bachelor's degree and his law degree from the University of Florida.
In his spare time, Mr. Weiss snow skis, scuba dives and is an avid sports memorabilia collector with an emphasis on baseball, Florida Gator football and the amazing Mets. Mr. Weiss also enjoys being physically challenged in the gym and on the hiking trail.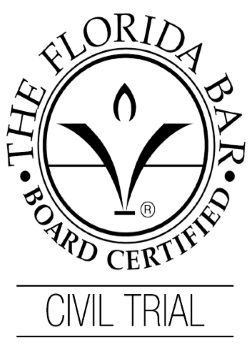 Business and Contract Disputes
Civil Rights and Constitutional Disputes
Class Action Litigation
Commercial and Residential Landlord/Tenant Disputes
Commercial and Residential Lease Preparation and Negotiations
Construction and Lien Law
Employment Law
First Amendment Disputes
First Party Insurance Defense
Insurance Coverage Disputes
Personal Injury Defense
Premises and Products Liability Disputes
Master member in the George C. Young American Inn of Court
Appointed by Governor Rick Scott to the 18th Circuit Judicial Nominating Commission
Inducted to the Litigation Counsel of America – Achieved senior fellow status 2017
Florida Super Lawyer 2007, 2010, 2011, 2012, 2013, 2014, 2015, 2016, 2017, 2018, 2019, 2020
Florida Legal Elite 2009, 2010, 2016
"AV" Rating by Martindale-Hubbell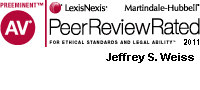 On October 16, 2017, Jeffrey Weiss will be speaking in Daytona Beach at the National Business Institute seminar, "Gun Law in Florida".

On June 16, 2017, Jeffrey Weiss will be speaking in Orlando at the National Business Institute seminar, Combating "Rambo" Litigators – Practical and Effective How-to's.
Carter v. City of Melbourne, Fla.,

731 F.3d 1161 (11th Cir. 2013)

Cleveland v. City of Cocoa Beach,

221 Fed. Appx. 875 (11th Cir. 2007)

Fernez v. Calabrese,

760 So. 2d 1144 (Fla. 5th DCA 2000)

Flowers v. City of Melbourne,

No. 6:12-cv-202-Orl-18KRS, 2013 WL 12098771 (M.D. Fla. Aug. 21, 2013)

Flowers v. City of Melbourne,

557 Fed. Appx. 893 (11th Cir. 2014)

Hunt v. City of Mulberry,

173 F. Supp. 2d 1288 (M.D. Fla. 2001)

Lumley v. City of Dade City,

327 F.3d 1186 (11th Cir. 2003)

Pierre v. Schlemmer,

932 F. Supp. 278 (M.D. Fla. 1996)

Sea World of Florida, Inc. v. Ace Am. Ins. Companies, Inc.,

28 So. 3d 158 (Fla. 5th DCA 2010)

Seminole Entm't, Inc. v. City of Casselberry, Florida,

813 So. 2d 186 (Fla. 5th DCA 2002)

Taylor v. Florida State Fair Auth.,

1995 WL 688962 (M.D. Fla. Nov. 15, 1995)

Thomas v. City of Palm Coast,

No. 3:14-cv-172-J-32PDB, 2015 WL 7429051 (M.D. Fla. Nov. 23, 2015)

Young v. City of Palm Bay, Fla.,

358 F.3d 859 (11th Cir. 2004)