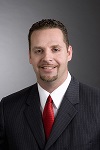 Senior Attorney
Richard V. Blystone is a Senior Attorney with Garganese, Weiss, D'Agresta & Salzman, P.A. As part of his practice, Rick handles contractual disputes, business torts, non-compete matters and cases brought under Title VII, the ADA, ADEA, FLSA, FCRA, and Florida's Private Whistleblower Statute, just to name a few. He also has experience drafting employment contracts and employee handbooks, and assisting employers through regulatory matters and investigations lodged by various state agencies, including the Florida Department of Revenue. Finally, Rick advises employers on a full array of employment-related issues, including terminations, hiring, discipline, reasonable accommodations, FMLA compliance, wage-and-hour compliance, proper classification of employees as exempt/non-exempt, internal investigations, commission disputes, and disparate treatment.
Rick has authored scholarly articles published in the Florida Bar Journal and the BYU Education & Law Journal. His work has been cited by the First District Court of Appeal, and other law reviews and trade publications. He has also been quoted in the Florida Business Journal in regard to emerging labor and employment legislation. During law school, Rick served as Editor-in-Chief of the ILSA Journal of International & Comparative Law, participated on two national-level moot court competition teams, won the Fienrider Moot Court Competition, and received CALI Excellence for the Future Awards in International Human Rights, and Interviewing, Negotiating, and Counseling. He was also selected as a legal writing, research and appellate advocacy teaching assistant.
Rick is the Chair of Florida Defense Lawyers Association's (FDLA) Labor and Employment Committee. He is also a member of the Florida Bar, Labor and Employment Section, Psi Chi, the International Honor Society in Psychology, Phi Theta Kappa, the Moot Court Honor Society, and the National Order of Barristers, a national honorary organization chartered in 1970, headquartered at the University of Texas, which recognizes excellence in written and oral advocacy.
Finally, Rick has been named to the prestigious Fulbright Specialist Roster by the U.S. Department of State's Bureau of Educational and Cultural Affairs and World Learning. The Fulbright Program is an American scholarship program of competitive, merit-based grants for international educational exchange involving professionals, scientists, scholars, artists, teachers and students. Fulbright alumni include 33 current or former heads of state or government, 54 Nobel Laureates, 82 Pulitzer Prize winners, 29 MacArthur Foundation Fellows, 16 Presidential Medal of Freedom recipients, and thousands of leaders across the private, public and non-profit sectors. This designation means that Rick, who is Board-Certified as a Specialist in Labor and Employment Law, may have the honor of collaborating, during his tenure on the Specialist Roster, in a 2 to 6 week project with a host institution located in 1 of 160 participating countries. Such projects could include a lecture series, co-teaching, or curriculum development, in the area of labor and employment law.
On July 29, 2017, Richard Blystone will be speaking at the Florida Public Human Resources Association's 81st Annual Conference. He will be presenting on the Family and Medical Leave Act.
On February 17, 2017, Richard Blystone will be speaking in Orlando at the Florida Government Finance Officers Association, Divergent Series Seminar. He will be presenting on the Fair Labor Standards Act Overtime Law. This presentation is designed to provide attendees with an overview, as well as address recent developments in the law, and strategies for tackling issues that commonly arise under the statute.
On January 26, 2017, Richard Blystone will be a panelist for the following webinar "A School District's Guide to the Family and Medical Leave Act: Nuts and Bolts", presented by the American Association of School Personnel Administrators (AASPA).
In October 2016, Richard Blystone will be speaking at the 78th annual conference of the American Association of School Personnel Administrators in Orlando, FL. He will be presenting "A School District's Guide to the Family & Medical Leave Act: Nuts and Bolts"

Certified by The Florida Bar as a specialist in Labor and Employment Law.